Great news!
Jill Shalvis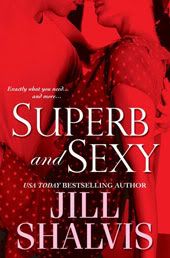 has a new book releasing at the end of this month - SUPERB AND SEXY. Jill's readers have been impatiently waiting for this next installment in her "Sexy" series, and trust me, no one will be disappointed.
Here's a blurb from Jill's website:
When you want to fly the best, you fly Sky High Air. And when you want spectacular adventure and scorching seduction, Jill Shalvis's tantalizing, talented pilots Noah, Shayne, and Brody will get you there-fast, slow, or any way you want it.
BUCKLE UP. IT'S GOING TO BE QUITE A RIDE.
Despite his brooding bad-boy attitude, Brody knows life has treated him pretty well. His luxury charter airline, Sky High, has given him financial security and the means to take to the skies whenever things on the ground get complicated. And lately, things have become very complicated, thanks to the insanely passionate, or perhaps just insane, kiss he shared with Sky High's gorgeous, wisecracking concierge, Maddie. He's tried to keep his distance, but now Maddie desperately needs help, and it's triggering protective alpha-male urges Brody didn't even know he had.
For months, Maddie hid her crush on sexy, exasperating Brody behind a cool, kick-ass exterior and then blew that to smithereens by jumping him in the lobby. Yeah, real smooth. She's tried to break her ties with Sky High, but Brody won't let her walk away-especially now that he knows that Maddie and her twin sister Leena are in big-time trouble. To save Leena, Maddie and Brody must pose as husband and wife, and Maddie is amazed that the man she thought was oblivious to her existence knows her very well indeed. But that's nothing compared to the way she's about to get to know him-intimately, in depth, and over and over again.
My review:
When the three owners of the incredibly successful Sky High Air can't reach their concierge, Maddie, they become concerned and it's decided that Brody West should go to Maddie's home to check things out. Sparks have always flown between Brody and Maddie - so much so that one of the last times he saw her, Maddie plastered herself against him in a soul-stealing kiss. It was nothing short of incredible. Not so incredible was that she promptly ran out and ended up getting shot by a jealously unstable Sky High client; she's been on medical leave since then. When Maddie refuses to open her door to talk to him, Brody becomes suspicious that she's in some sort of trouble. After he meets her identical twin, Leena, and there's double the strange behavior, he's determined to get to the bottom of what has them so jumpy.
The next thing Brody knows he's on his way to a private island, posing as Maddie's husband (while Maddie poses as Leena), facing goons with more brawn than brains that work for the girls' criminal uncle. It isn't long before Brody realizes that the emotions he's experiencing while spending so much time with Maddie run much deeper than simple anger at the blackmailing uncle. Maddie can't deny that the things Brody makes her feel are very new to her, and more than just a little frightening. She and Leena haven't had the best of luck with guys and are wary, to say the least. But the way Brody jumps in to protect them, and the passion and emotion he has stirred in her, have given Maddie second thoughts . . .
Jill has once again served up a book that's full of fun, quirky characters who simply don't seem to understand that she knows what's best for them by putting them together. SUPERB AND SEXY has danger, desire and humor, and while it is a romance, it delves into the love and devotion of twin sisters as well. I highly recommend this book for all romance readers.
To celebrate the release of SUPERB AND SEXY, Jill is offering a prize to one reader here - a book from her backlist (subject to availability/limited to U.S./Canada addresses). All you have to do is post a reply - maybe share what you've enjoyed most about Jill's "Sexy" series, or any other book of hers that you've loved. Heck, you can even just say that you want to be entered, we're really not that picky! I'll draw a name next Friday, May 23rd. Send your friends over to enter too - if they mention your name I'll enter them and put your name in the hat an extra time for each friend.
Thanks for checking out Jill's book!
Laurie