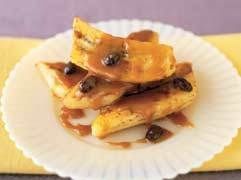 Aren't they lovely? I think they look great and I plan to try them this weekend - the recipe is below. While I like bananas, I don't love them - I probably don't eat more than one or two a month. Now if you're talking banana bread, I'm all over it. But banana flavored anything? No thanks. This recipe looks good and, even better, it looks easy! I'll leave out the walnut oil and will make the sauce w/apple juice, not because I'm adverse to alcohol, but I always have apple juice on hand.
Sometimes when I'm deep in the diet groove I'll broil pears for dessert - so simple (I actually came up with this one myself).
Light
canned pear halves, drained and placed into a small baking dish, cut side up. Drizzle lightly with honey and/or sprinkle w/brown sugar. Broil until the honey/sugar begins to bubble and remove to serve. Sometimes I'll reserve the canned pear liquid and mix with a little cornstarch in a small pan to thicken and then serve as a glaze rather than using the honey and brown sugar. Either way it's a tasty sweet treat that's not terrible for you. My girls especially like them.
Enjoy!
Ingredients
For the sauce
1 tablespoon butter
1 tablespoon walnut oil
1 tablespoon honey
2 tablespoons firmly packed brown sugar
3 tablespoons 1 percent low-fat milk
1 tablespoon dark raisins or golden raisins (sultanas)
***
4 firm bananas, about 1 pound total weight
1/2 teaspoon canola oil
2 tablespoons dark rum or apple juice
***
Directions
To make the sauce, in a small saucepan melt the butter over medium heat. Whisk in the walnut oil, honey and brown sugar. Cook, stirring continuously until the sugar is dissolved, about 3 minutes. Stir in the milk, 1 tablespoon at a time, and then cook, stirring continuously until the sauce thickens slightly, about 3 minutes. Remove from the heat and stir in the raisins. Set aside and keep warm.
***
Peel the bananas, and then cut each crosswise into 3 sections. Cut each section in half lengthwise. Lightly coat a large nonstick frying pan with the canola oil and place over medium-high heat. Add the bananas and saute until they begin to brown, 3 to 4 minutes. Transfer to a plate and keep warm.
***
Add the rum to the pan, bring to a boil and deglaze the pan, stirring with a wooden spoon to scrape up any browned bits from the bottom of the pan. Cook until reduced by half, about 30 to 45 seconds. Return the bananas to the pan to rewarm.
***
To serve, divide the bananas among individual bowls or plates. Drizzle with the warm sauce and serve immediately.
Nutritional Analysis(per serving)
Calories 146
Monounsaturated fat 1g
Protein 1g
Cholesterol 5mg
Carbohydrate 27g
Sodium 25 mg
Total fat 5g
Fiber 3g
Saturated fat 1g