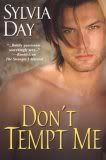 Sylvia Day
has a new release
DON'T TEMPT ME
- this is one that all fans of historical romance should not miss. This book is complex without being complicated or difficult to read or understand; layer upon layer of rich goodness.
Sylvia has a
blog
that is always fun.
Here's a blurb to tease:
WHO IS SHE?
Simon Quinn can have any woman he wants, but he prefers them jaded, worldly, and free of illusions. His life is one of danger and temporary pleasures. An Irish commoner, he has nothing more than his expertise as a lover and mercenary to recommend him and no title, property, or family to redeem him.
Lysette Rousseau is a deadly beauty who can seduce or betray with equal skill. She should be just the sort of woman Simon entertains, but something about her sets him on edge. At times she is a femme fatale he cannot abide, at others she is warm, sweet, and irresistibly alluring. His reactions to both sides of her are equally powerful, but for opposite reasons. It seems almost as if there are two women in one…
TWINS!
…one wounded and exploited, the other innocent but strong. Lynette Rousseau will do anything to reclaim the sister who doesn't remember her. She will gain the proficiency required to enter the underworld her sibling occupies. But how will she defend herself against the enigmatic, seductive Simon Quinn? A man who can liberate Lysette, but whose insatiable desires may ensnare Lynette forever…
I was fortunate enough to get this book for review at Romance Junkies - here is my review:
DON'T TEMPT ME is the story of Simon and Lynette, two young lovers whose passion knows no bounds. They both realize that because of differences in their backgrounds and social status they cannot plan for a future together, but even more important at present is simply staying alive.
Simon Quinn is not a man to be ignored. Lynette Rousseau can attest to this as the two exchange heated glances across a crowded ballroom floor. Lynette knows Simon's reputation of being a relentlessly seductive rake, but there is some confusion between the two when, during their first conversation, Simon calls Lynette by the name of her identical twin sister, Lysette. As the relationship between the two escalates from that of mere acquaintances to lovers, not only does their passion increase to an incendiary level, but Lynette's curiosity about her twin makes her determined to learn her whereabouts. What Lynette doesn't realize is that the search to learn her sister's secrets has put her in grave danger as well. Simon understands the danger and while his intention is to keep Lynette safe while discovering the strange truths behind her sister's situation, he knows that the evil putting Lynette and her family in peril won't risk discovery before eliminating the beautiful young sisters.
The heat between Simon and Lynette smolders on the pages. Their attraction, seemingly doomed from the beginning, is made of the strongest, sweetest emotions mixed with the steamiest passions. The history of and relationships between secondary characters are brilliantly told at the beginning, shedding light on the back story and giving readers the bonus of an additional story.
I remember the first review I did for then-new author Sylvia Day several years ago; I compared her style to that of veteran historical author Nicole Jordan. No comparisons are necessary these days. Ms. Day has come into her own as a masterful storyteller whose historicals are repeatedly guaranteed to become reader favorites. I highly recommend DON'T TEMPT ME for all historical fans.
So, what do you think? I think it's time for anyone who hasn't read Sylvia's work to check her out; if you have read her, you won't want to miss this one!
Thanks for stopping by!
Laurie