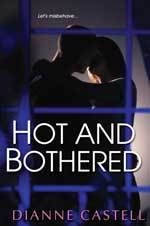 Dianne Castell
, for those who haven't met her, is an unstoppable bundle of energy wrapped around the biggest, kindest heart you'll ever find. Dianne sent me a copy of her upcoming release, HOT AND BOTHERED, some time ago and we talked about her being a guest blogger here to promote her book. Dianne immediately went to work, planning a blog party, getting copies of her book out to readers so they could discuss it during her days here, and planning games and prizes. We've both been very excited about it and look forward to lots of visitors over the next couple of days!
First, about the book - Hot and Bothered is without a doubt, Dianne's best work to date. Set in sultry Savannah, Dianne's usual sense of humor shines and her lead characters, Charlotte and Griff, are priceless together.
NYT Bestselling author Lori Foster says this about HOT AND BOTHERED: "This is what romance is all about – first class writing with humor, sexy romance, and some very special twists. You don't want to miss this one!"
Long-time romance reader and Georgia native Lisa Freeman offers this quote and review - "Great characters that makes the reader want more! I'm anxiously awaiting the next story in this "Hot" series."
Charlotte and her best friends, Priss, Bebe, and Brie, have known each other all their lives, brought together out of necessity to survive adolescence. Charlotte knows who Griff is, however they don't socialize in the same circles. Griff hires her to find the missing heir to the other half of his hotel and immediate sexual chemistry flares between them. Events happen in a domino effect, and Charlotte's friends are drawn into the mystery surrounding the missing heir, a missing heirloom necklace, and the old morgue.
As a native Georgian, I have been anticipating this book for quite some time. Dianne Castell doesn't disappoint at all! As you are reading the words you can just picture how they would sound with a southern accent. She uses sayings and phrases common to this area. The four friends were portrayed perfectly as best friends who have grown up together and share everything – closer than and more faithful than sisters. I loved the comedy written into every part of the book. I found myself cheering for the girls one minute and laughing out loud at their antics the next. Even the heroes had funny moments, and I can't wait to read the next book in this series.
Reader Jodi Shadden had this to say: Hot and Bothered will do just that - Get you hot and bothered! Dianne Castell does it again with this great start to a new series. Dianne's descriptions make you feel like you are there living the story with the characters. It sure made me want to re-visit Savannah! I laughed at parts, wanted to slap a character upside the head a time or two, and bit my nails in anticipation of what was to happen. This book affirmed why Dianne Castell is an auto-buy author.
Reader Kaleen Cooper says: "Hot and Bothered is a Spicy, Sexy Who-Done-It Thriller. Wealthy Griff Parish hires P.I. Charlotte deShawn to find a missing person that will inherit half his family's fortune. Charlotte is thrilled to prove herself and jumps right in. What she finds is murder, mayhem and a mystery that spans over 30 years. Charlotte knows Griff is hiding something from her and she will try anything to find out what. Even if it means sacrificing her body!"
Stacy Ahlgren
had this to say about HOT AND BOTHERED: "Dianne Castell incorporates her unique, sassy style in her latest book, "Hot & Bothered", a funny take on southern living with a haunting twist. Her stories are wild and steamy, overflowing with humor and fun. She is an auto-buy for me". Keep an eye on Stacy's blog around the 22nd-23rd, as she has her own celebration planned for the release of Dianne's book!
Cindy
, who many of you know as "LilCinny" agreed to help spread the word about our party on her blog, despite mourning the recent death of her mother. This is what she had to say "My mama loved to read, so what better way to honor her than helping out an author?" Isn't that typical of someone in the wonderful world of romance? Bless you, Cindy.
Judy Flohr says this about HOT AND BOTHERED: "A delightfully funny romance. The characters have such depth and feel like long lost friends. Its a beautiful blend of southern charm with a taste of mystery."
I recently made a request of several authors, asking if they would simply help spread the word about our blog party on Thursday and Friday. That request was met with wide-open arms and their offers of books and prizes to celebrate the release of Dianne's book totally blew me away. Check out this list! All you have to do for a chance at these books is post a comment here during Dianne's blog party on Thursday and/or Friday. There will be one entry per person and I will draw names for this contest on Friday evening. Prizes will be mailed (US/Canada addresses only, please) to winners directly from the author offering the prize. Dianne will also be offering several prizes and she will be announcing her contest requirements.
Okay, here we go, in no particular order!
Jill Shalvis
will be giving one lucky reader copies of SMART AND SEXY and STRONG AND SEXY! Thanks, Jill!
HelenKay Dimon
is offering a copy of her latest release RIGHT HERE, RIGHT NOW and she will also be chatting about our blog party on her blog!
Lori Foster
will be giving a hardcover copy of JUDE'S LAW, copies of SERVANT (written as L.L. Foster) and SIMON SAYS and a t-shirt from her Cafepress store (winner's choice) - wow! Lori is also talking about Dianne's blog party all over the place!
Erin McCarthy
is giving one lucky winner a copy of SUCKER BET, the latest in her Vegas Vampire series!
Sylvia Day
will be mentioning our party on her blog and is offering a copy of her latest release, DON'T TEMPT ME.
LuAnn McLane
will be giving one winner a TRUCK MY TRUCK goodie package including an autographed copy of TRICK MY TRUCK BUT DON'T MESS WITH MY HEART!
Toni Blake
is offering a copy of SWEPT AWAY for one winner!
Fallen Angel Reviews
is generously offering a prize package to one lucky winner!
Donna Kauffman
will be chatting up our party on her blog several times and is offering two different prizes - BAD BOYS IN KILTS and THE GREAT SCOTT as one prize and THE BLACK SHEEP AND THE PRINCESS and THE BLACK SHEEP AND THE HIDDEN BEAUTY as a second prize - woohoo!
J.C.Wilder
will be chatting all over the web about our party, including http://www.eroticromancewriters.com - she is also offering one lucky reader a prize of IN THE GLOAMING!
Roberta Brown
is offering one very lucky reader a $50. gift card to Barnes & Noble - wow! Her alter ego
Kate Angell
is offering another reader the prize of her Boys of Summer trilogy which includes SQUEEZE PLAY, CURVEBALL, and the April release, STRIKE ZONE. Pretty amazing, huh?
Alison Kent
will be offering a copy of HOT AND BOTHERED on her blog and is offering a copy of BEYOND A SHADOW to one lucky winner here!
Kay Stockham
Kay will be chatting about our party on her blog and is offering two winners each a copy of her latest release, ANOTHER MAN'S BABY!
Janice Maynard
is putting up a copy of THE PERFECT TEN to one lucky winner!
Karen Kelley
will make one reader happy with a copy of COSMIC SEX and an alien bookmark!
Sasha White
will thrill a lucky winner with a copy of SEXY DEVIL! Sasha will be chatting about our party on her blog as well.
Lucy Monroe
is going to make mention on her blog and is offering two prizes, a copy of SATISFACTION GUARANTEED and a copy of DEAL WITH THIS - both prizes will include chocolate, pens and bookmarks - sweet!
Janelle Denison
is giving a copy of BORN TO BE WILDE to one lucky winner!
WHEW! Can you believe those prizes? This just goes to show how wonderful the romance community is. All I asked for was for these beautiful women to make simple mention of our blog party and this is what I was given in return.
Thank you just doesn't say enough, ladies, your generosity and your eagerness to celebrate with a fellow author has deeply touched me.
Laurie
xo